Manage your new hires through your dashboard. Onboard through Slack.

Nothing changes for you here. Your new hires can do just as much in our Slack plugin as they can do through the web portal.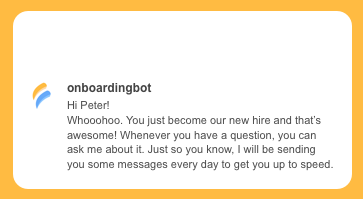 Welcome your new hire

The first time we see your new hire in your Slack team, we will send them a welcome message. And of course, you can customize it.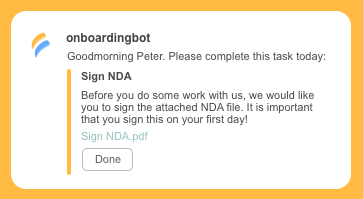 Reminded every day

Every day at 8AM, we will send your new hire a reminder of the tasks he/she needs to complete that day.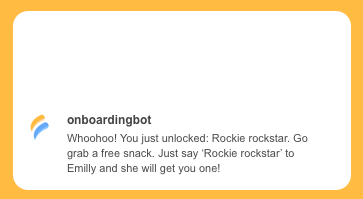 Award them

Keep your new hires motivated and excited about the next step. Award them easily with badges.

Gather information

We have integrated forms into our Slack bot. Allow your new hires to fill in specific information you need from them.

Keep them motivated

Keep them motivated to go through all of the steps with the awards and badges.

Workflows
Nothing is so overwhelming as their first day. Make sure you don't bombard them with tasks. Spread them over a few days with our workflows.

Ask!

Our slack bot is smart. It can answer questions your new hire has. It will always try to connect a question to a resource.

Get started
After signing up you can login to your dashboard and click the menu item 'settings'.
There, you can click on the 'Add to Slack' button and then follow the onscreen instructions.